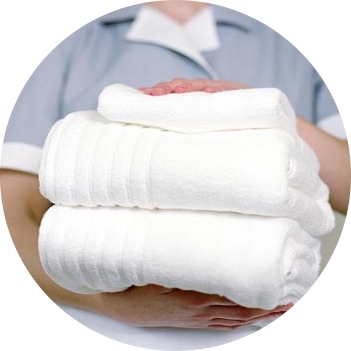 Laundry rentals
Laundry rentals are preferable because:

It saves your time. You won`t need to waste your time looking for a laundry service you need;




Our company offers bed linen and terry products;




All products are of the highest quality and are intended for professional use;




The Customer pays only for said amount of laundry; this saves the customer money because our company buys the actual laundry.



To become a client for laundry rentals:

Please call or e-mail us;




Let's make a deal on the specifications and amount of bed laundry and terry products;




Let's make a deal on prices and service schedules;

Let's sign a contract;

We provide laudry rentals to you;




We begin a fruitful customer relationship with you.



How successful has laundry rental been at Lindo Group?

Our company has been offering linen rentals about 13 years. Our service and its popularity have grown immensely. Our clients include: hotels, guest houses, camping grounds, SPA centres and other companies specializing in care facilities.

Contact us:
Viesturs Lavrentjevs +37128343961 e-meil: viesturs.lavrentjevs@lindogrupa.lv

Edgars Vecums +37129373569 e-meil: edgars.vecums@lindogrupa.lv